December Global Holidays
December trips in the US are generally led by people who want to get out of the cold and are looking for a warm place to visit, or by people who love to ski and are looking for a great winter vacation. The third type of December traveler is those looking for a seasonal getaway for the holidays.
Some of the best December destinations in the US are those that provide warmth to northern snowbirds in states like Florida, Hawaii, and California or places that provide access to the best ski resorts in the United States. America even has some tropical December getaways.
USA December Global Holidays List:
December is without a doubt the most festive month of the year. The month is marked by all kinds of events and festivals around the world, including religious, cultural and even corporate events.
1. Hannukah
2. World AIDS Day
3. Santa Lucia
4. Yule
5. Festivus
6. Christmas
7. Boxing Day
8. Kwanzaa
9. New Year's Eve
Best December Global Holidays Places In United States
Plan Your vacations With Our List Of The Best Places To Visit In The US In December:
1. Seattle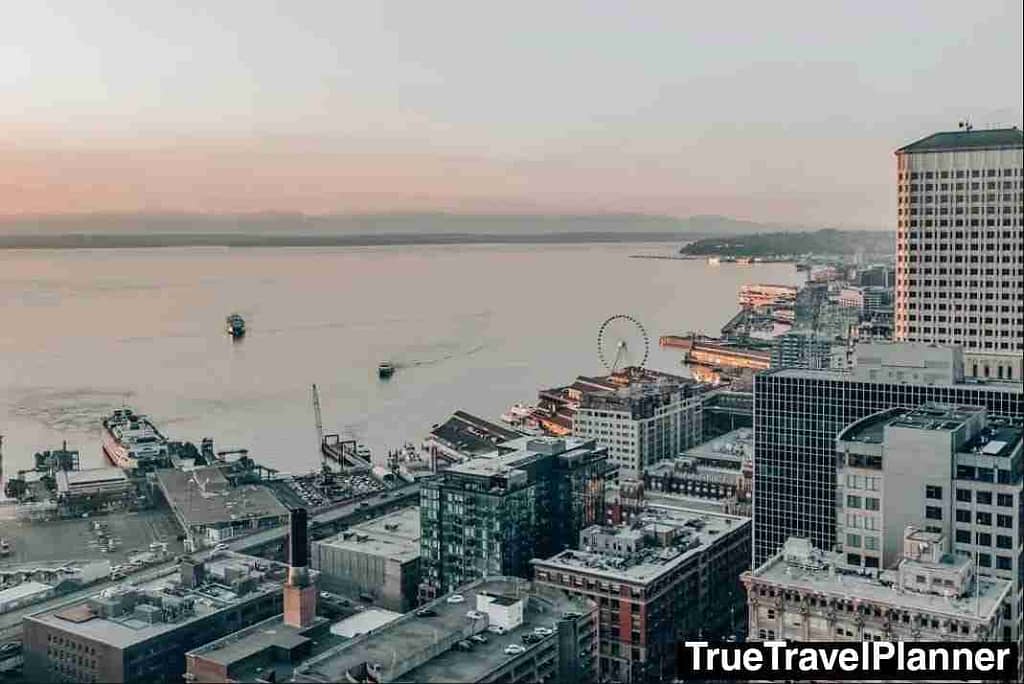 Seattle, in the continental Northwest of the US, is one of those cities that you will instantly fall in love with. Despite its rainy reputation, Seattle has a wintery December Global Holidays charm that few other places have. Maybe it's the friendliness of the locals or their diversity, Seattle is like that stranger who makes you feel like you've known them for a lifetime.
Seattle is so much more than breathtaking views, history, and nature. Another benefit of visiting the northwestern city is its eternal love and support for local products, which are not few.
Some of the highlights for lovers of local food include warming up to a delicious local organic apple cider while wandering around town. Sample some of Beecher's famous handmade mac n cheese with cheese overlooking the Olympic Peninsula. And of course, the crowd favorite, Taxi Dogs' weird-looking but surprisingly delicious Seattle hot dog. Whether you want a city break, a foodie adventure, or a relaxing ski retreat, Seattle has you covered.
Recommended Best Hotels:
The State Hotel (Location:- 1501 2nd Ave, Seattle, WA 98101, United States)
Hotel Ballard (Location:- 5216 Ballard Ave NW, Seattle, WA 98107, United States)
Hotel Max (Location:- 620 Stewart St, Seattle, WA 98101, United States)
2. New Orleans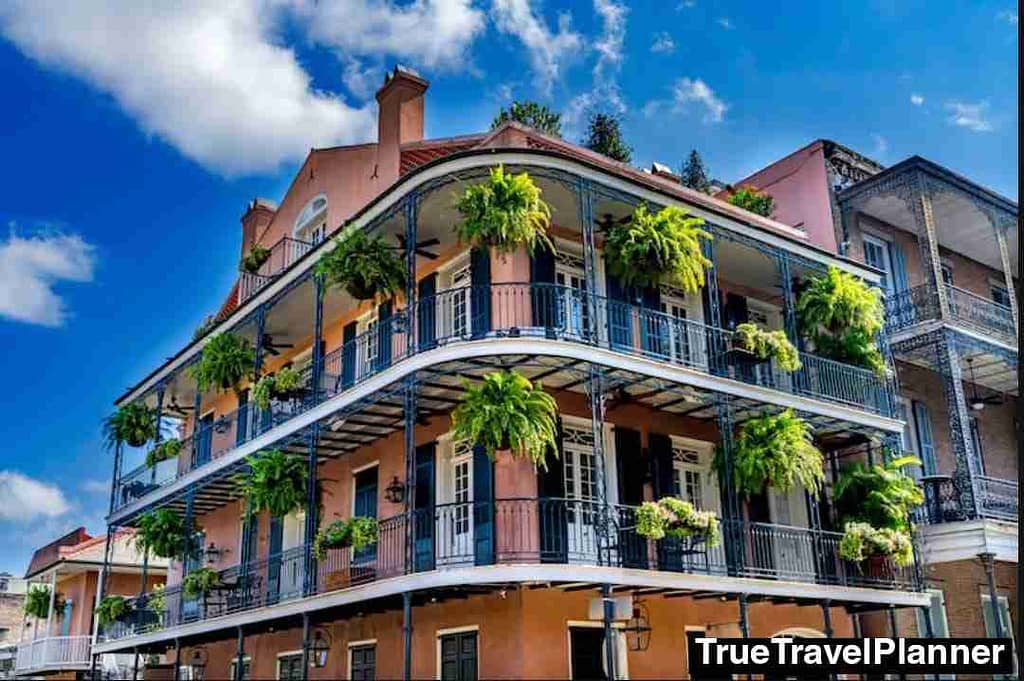 If you prefer sunshine to snow and fun cities with fascinating history, New Orleans is the perfect city to visit in the US in winter during December Global Holidays. Winter temperatures are rarely cold. January is the coldest month and the average high temperature is still 62 degrees.
This city has a great atmosphere and winter is perhaps the best time to experience it. Mardi Gras is HUGE in New Orleans and incredibly popular. This takes place in February and is a great time to visit, but book well in advance. There are also other parades before the main event. Even outside of Mardi Gras, this city still has a great atmosphere and Bourbon Street is fun to visit at any time of the year. A jazz show is a must.
The French Quarter of the city, founded in 1718, is a great place to stroll and enjoy. It is animated in parts, but it is not difficult to get sections for you either. It is home to many shops, restaurants, bars, and a few museums, and the architecture is beautiful.
Recommended Best Hotels:
Maison Dupuy Hotel (Location:- 1001 Toulouse St, New Orleans, LA 70112, United States)
Balcony Guest House Bed and Breakfast (Location:- 2483 Royal St, New Orleans, LA 70117, United States)
Hotel Vinache (Location:- 1300 Canal St, New Orleans, LA 70112, United States)
3. Salt Lake City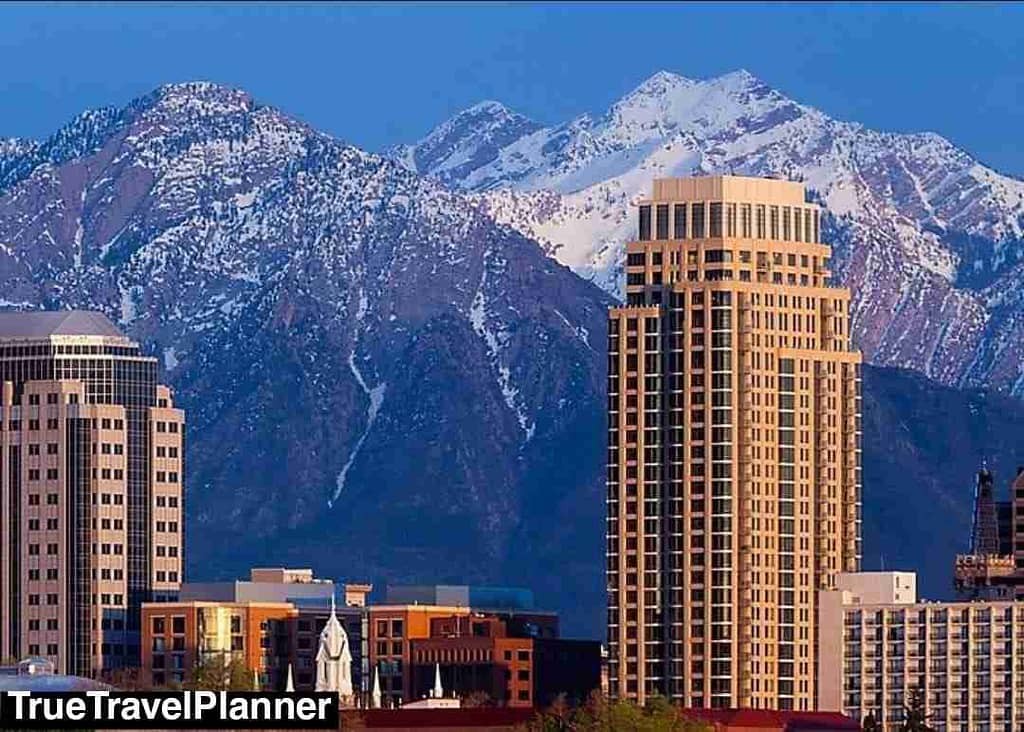 The Salt Lake City area is one of the most convenient cities to visit if you are looking to hit the slopes. There are numerous world-class ski resorts within a 30-minute drive of the city.
Park City Mountain Resort is perhaps Utah's most famous and popular resort for snowbirds. As the largest ski resort in the United States, Park City offers skiers and snowboarders more than 7,300 acres of skiable terrain.
Plus, just a short drive away, the charming town of Midway will make you feel like you're visiting the Swiss Alps instead of the Rocky Mountains. Nestled in a picturesque valley at the base of the Wasatch Mountains, the sleepy town is also home to one of several ice castles in the United States. The acre-size attraction built entirely from ice is a frozen playground for kids and adults alike.
Recommended Best Hotels:
Salt Lake City Marriott City Center (Location:- 220 S State St, Salt Lake City, UT 84111, United States)
The Grand America Hotel (Location:- 555 S Main St, Salt Lake City, UT 84111, United States)
Hyatt Place Salt Lake City/Cottonwood (Location:- 3090 6200 S, Holladay, UT 84121, United States)
4. Las Vegas
This place is not just the city for gambling. It is the place for adults and children of all ages. The best part is that you don't have to pay money to visit big attractions.
Even during winter, you can see the dancing fountains outside the Bellagio. You can even enter the Bellagio and see the winter-inspired displays, including the Christmas lights, which is one of the popular attractions in Las Vegas. You can walk along the Strip, which is about 4 km long, at night, and be amazed by the great and endless light show of the different hotels and casinos on the Strip. Just make sure to bundle up.
As you walk down the street, you will see great artists, from dancers, human statues, painters, to singers. There are many performances on the strip that can entertain you for hours. You can also visit the famous Las Vegas sign. However, make sure to arrive early in the morning as it can get very busy during the day. You can also go there at night so you can experience the lights all over that sign.
Recommended Best Hotels:
Four Seasons Hotel Las Vegas (Location:- 3960 S Las Vegas Blvd, Las Vegas, NV 89119, United States)
ARIA Sky Suites (Location:- ARIA Resort & Casino, 3730 S Las Vegas Blvd, Las Vegas, NV 89158, United States)
Bellagio Hotel & Casino (Location:- 3600 S Las Vegas Blvd, Las Vegas, NV 89109, United States)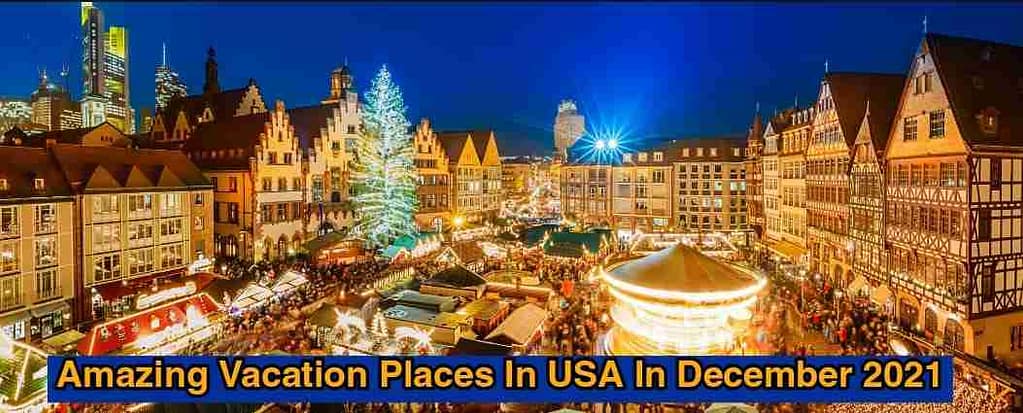 5. Grand Canyon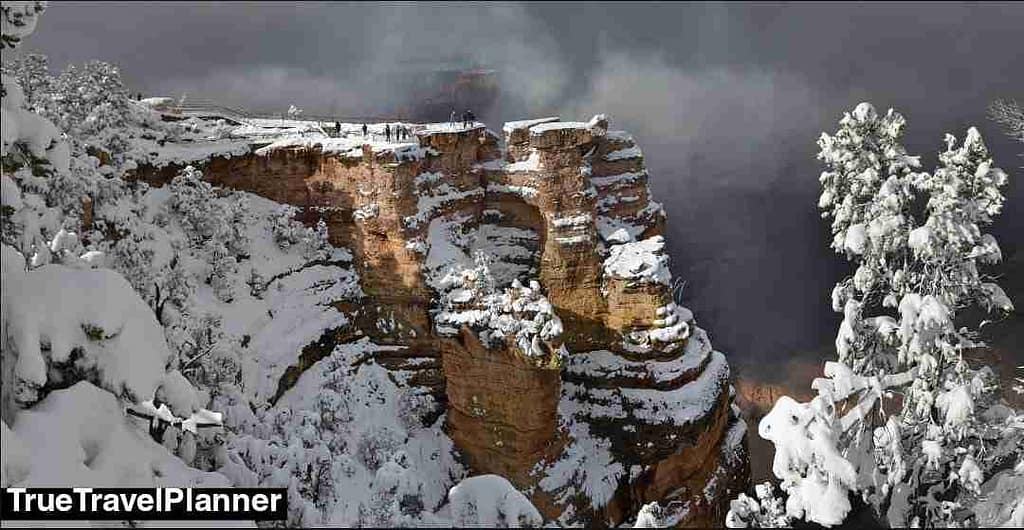 The Grand Canyon is impressive at any time of the year. But winters are special, especially from late November to February during December Global Holidays.
The temperature in the Grand Canyon is very moderate and not very cold. But when the snow falls, the canyons look very impressive. Be sure to visit the Grand Canyon during sunrise and you will be mesmerized by the multitude of colors in the craters. During winters, the southern rim of the Grand Canyon is the most accessible. And that's where we went in winter. You can also observe some wild animals here and there during winters.
Winter in the Grand Canyon is considered off-season, so there are fewer people and it's also very easy to find accommodation. Depending on how much snow the national park expects, some days the roads can be inaccessible.
Recommended Best Hotels:
My Place Hotel – North Las Vegas, NV (Location:- 1440 E Craig Rd, North Las Vegas, NV 89081, United States)
Super 8 by Wyndham Las Vegas Nellis AFB Area (Location:- 4435 Las Vegas Blvd N, Las Vegas, NV 89115, United States)
SAHARA Las Vegas (Location:- 2535 S Las Vegas Blvd, Las Vegas, NV 89109, United States)
6. San Antonio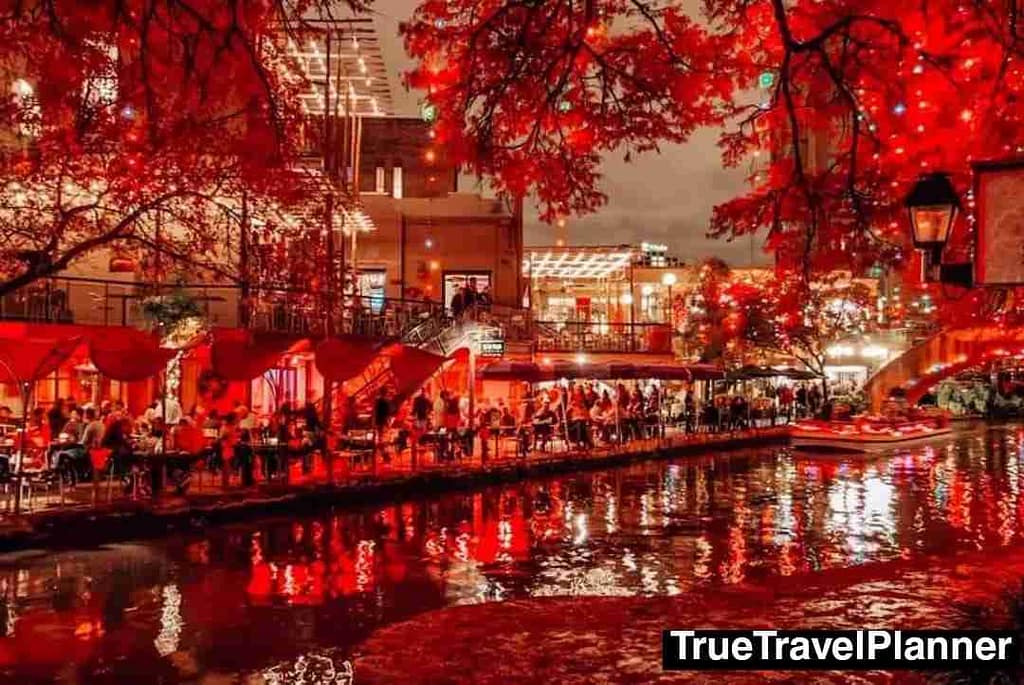 Winter in San Antonio is magical. Because the weather is so mild, you can enjoy the sights and sounds of Christmas & December Global Holidays without bundling up or freezing your toes.
Walk or take a boat ride along the festively lit riverwalk. From November 27 to January 2, the riverwalk is covered in brilliant colors, with strings of lights dripping from the trees and hanging over the river for a sense of enchantment. For even more charm, head to the Old West Christmas Light Fest at Enchanted Springs Ranch, just outside of San Antonio. This authentic old western town lights up wonderfully for Christmas, so you can imagine you're spending Christmas with the cowboys! Enjoy games, music, activities, and even a Christmas light show, laser tag, and escape room!
Also check out the Seaworld Holiday Celebration, featuring one of the largest holiday light displays in Texas! Meet Rudolph and his friends, watch Christmas animal shows, and tour over 250 acres of Christmas lights.
Recommended Best Hotels:
Hotel Emma (Location:-136 E Grayson St, San Antonio, TX 78215, United States)
The Emily Morgan San Antonio (Location:- 705 E Houston St, San Antonio, TX 78205, United States)
Marriott Plaza San Antonio (Location:- 555 S Alamo St, San Antonio, TX 78205, United States)
7. Yosemite National Park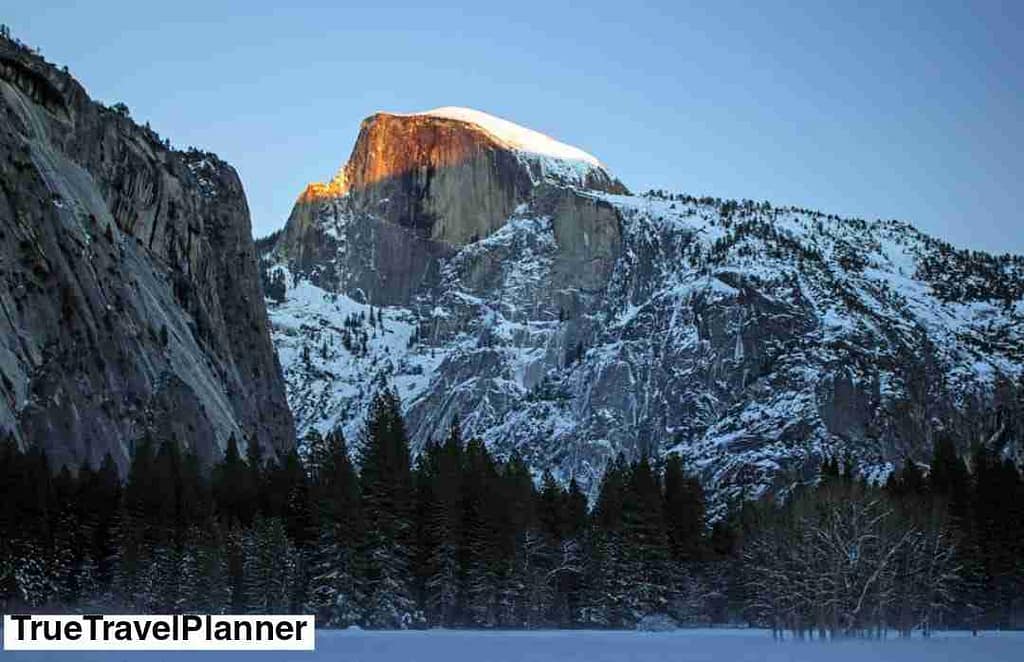 Located in the state of California, is one of the most iconic and well-known national parks in the entire United States. In the summer months, people come from all over the world to visit Yosemite and see the tall granite walls in Yosemite Valley and hike some of the best hiking trails in Yosemite.
Iconic features like Half Dome and El Capitan are covered in snow and show another beautiful side of Yosemite and, unlike summer, winter in Yosemite has a more relaxed, slow-paced vibe. There are fewer crowds and more times to enjoy the park alone.
During December Global Holidays in Yosemite National Park, you can go snowshoeing, ice skating, and even skiing at Badger Pass Ski Area. During the holiday season, the Majestic Yosemite Ahwahnee Hotel, Yosemite Valley Lodge and Big Trees Lodge host holiday festivities and excellent holiday dinners in celebration of the holiday season. There are all kinds of activities, including gingerbread house decorating, ornament making meetings, and much more.
Recommended Best Hotels:
The Ahwahnee (Location:- Yosemite National Park, 1 Ahwahnee Drive, Yosemite Valley, CA 95389, United States)
Yosemite Valley Lodge (Location:- 9006 Yosemite Lodge Dr, YOSEMITE NATIONAL PARK, CA 95389, United States)
The Westin Monache Resort, Mammoth (Location:- 50 Hillside Dr, Mammoth Lakes, CA 93546, United States)
8. New York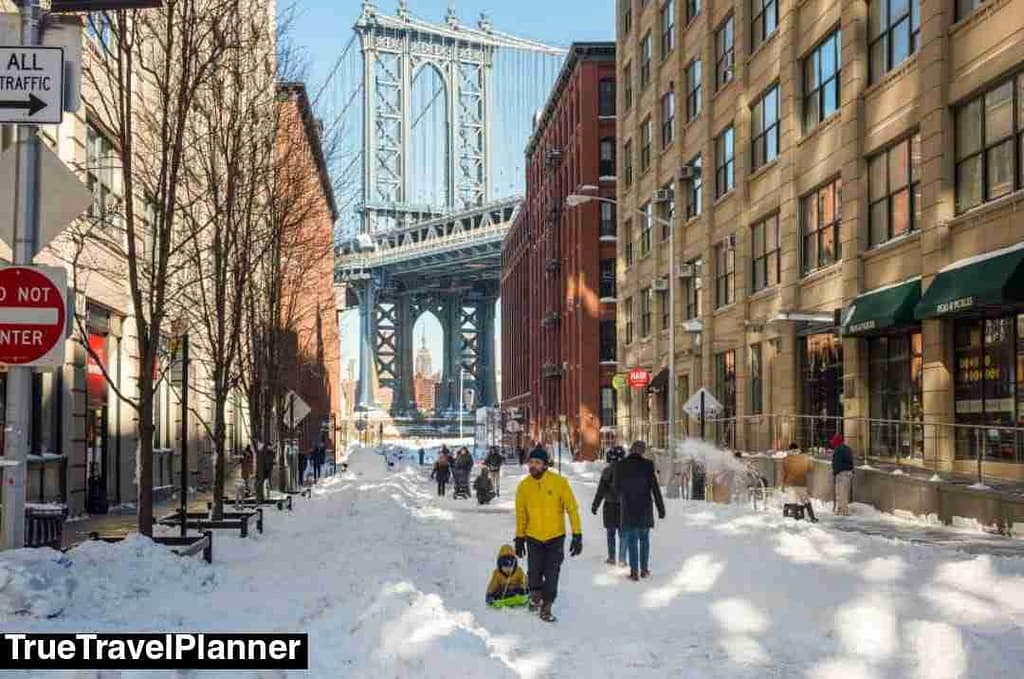 If you are looking for an unforgettable December Global Holidays in the United States, look no further than your largest city – New York City, of course. The Big Apple is positively charming in winter, despite the often sub-zero temperatures. New York is at its best immediately after Thanksgiving and before Christmas, when the entire city is thrown into the holiday spirit.
You can't miss the huge Rockefeller Center tree, adorned with all the Christmas glow. Don't forget to stop by the magnificent Saks storefronts – they are famous for a reason. You can also ice skate at Rockefeller Center or the relatively new ice rink at Prospect Park in Brooklyn. If you're in Brooklyn, get off the beaten track a bit and visit Dyker Heights at night, which are some of the most decorated homes in all of New York.
New York is also famous for its shopping, from designer stores on Fifth Avenue to trendy thrift stores in Brooklyn. And on a snowy day, there is nothing better than spending time strolling through one of New York's beautiful parks.
Recommended Best Hotels:
The Beekman, A Thompson Hotel (Location:- 123 Nassau St, New York, NY 10038, United States)
New York Marriott at the Brooklyn Bridge (Location:- 333 Adams St, Brooklyn, NY 11201, United States)
Four Seasons Hotel New York Downtown (Location:- 27 Barclay St, New York, NY 10007, United States)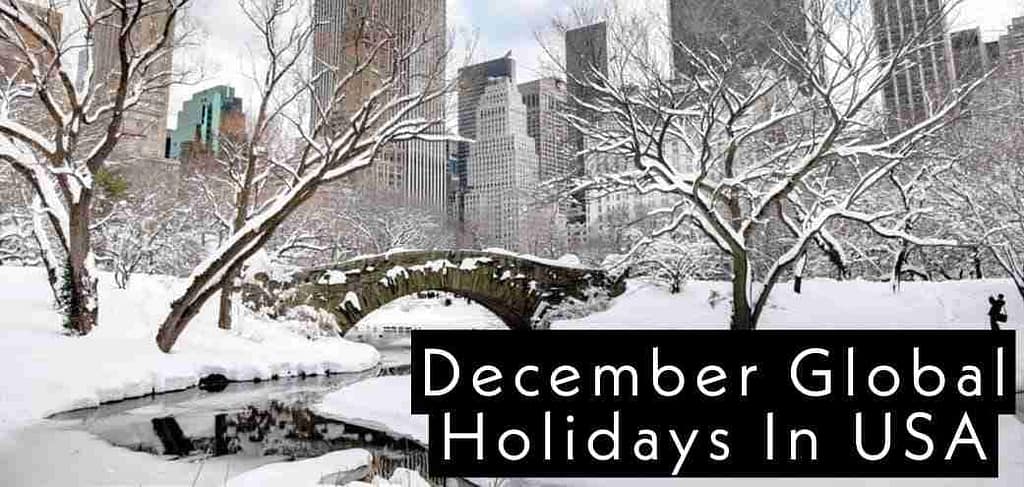 More Places To Visit In USA December
1. Miami
2. Kohler
3. Los Angeles
4. Colorado, Aspen
5. Key West, Florida
More About December Global Holidays In United States
The US has varied seasons in each of its regions, but it is generally the best time to visit the US During December Global Holidays the spring and fall, however, the summer months of May to September are considered the peak time for tourists to visit the country. Spring generally lasts from March to May, as it is a beautiful season for most of the country. It is the best time to visit heritage sites and a good time for outdoor activities such as hiking, biking, and camping due to the variety of the terrain.
What is the coldest month in the USA?
December through February has the coldest temperatures of the year in most of the United States. See when the coldest average low temperature of the season occurs at your location.
Is December a good time to visit USA?
In the US, this usually occurs during the winter months of December to February, when it receives cold weather in some parts. It is cold in the Northern and Gulf states and not conducive to a tourist visit. But even states like California and Florida have considerably pleasant weather.
What is the number 1 vacation spot in the US?
America's number one vacation spot is the Grand Canyon, according to U.S. News & World Report's annual Best Vacations ranking. At the Grand Canyon National Park in Arizona, travelers can hike, raft down the Colorado River, and visit the Grand Canyon Skywalk.
Is there winter vacation in USA?
As one of the most culturally and geographically diverse countries in the world, the United States has an incredible variety of winter getaways for all tastes. Snow, beaches, mountains, cities, national parks, whatever. America has it all.
Where in us is warm in December?
During December, January, and February, the top cities with the warmest climates in the United States are in Florida. Slightly cooler are urban areas along California's Pacific coast and in southern Arizona and Texas. The highest temperatures of the season are found in Florida's southernmost city, Miami.