Hotel Vouchers for Homeless
Hotel vouchers or motel vouchers are coupons that can be used to stay in a hotel or motel temporarily if you are homeless. These vouchers are usually provided by local churches or other charities to homeless people.
Motel And Hotel Vouchers For Homeless Programs
Some of these programs are also seasonal. For example, if all emergency shelters in the community are full during the colder winter months. The free voucher can be used to add extra capacity to the system. Or during a summer heat wave in a big city.
The sick or infirm can receive a voucher so that they can get out of the heat and stay safe. The hotel vouchers for the homeless can also be aimed at specific groups. Some are for single parents with children or seniors.
Other vouchers may be offered to single men or disabled people in the area.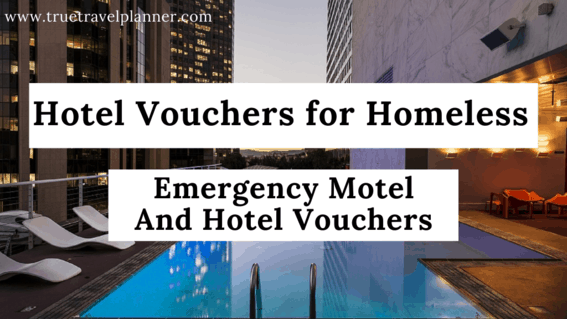 The nonprofits that provide these services are always looking for a means to keep them going as the demand and cost of the rooms can be expensive to run.
The agencies often write a grant proposal soliciting funding from partners such as local churches that help with motel vouchers.
Or they'll run local fundraisers. The raised money will be used to pay for hotel vouchers for the homeless.
Benefits of Motel and Hotel Vouchers
Motel and hotel vouchers have many benefits for both homeless programs and individuals experiencing homelessness. These benefits include:
Immediate Relief: Motel and hotel vouchers provide immediate relief to individuals and families experiencing homelessness. They offer a safe and secure place to stay for a short period, which can be crucial during a time of crisis.
Flexibility: Motel and hotel vouchers offer flexibility to homeless programs as they can be used for emergency shelter, short-term housing, or even long-term housing in some cases. This flexibility allows homeless programs to tailor their services to meet the unique needs of each individual or family experiencing homelessness.
Cost-Effective: Motel and hotel vouchers can be a cost-effective solution to homelessness. These vouchers are often less expensive than traditional homeless shelters, and they can provide a better quality of life for those experiencing homelessness.
Increased Accessibility: Motel and hotel vouchers are more accessible than traditional homeless shelters, which may have strict eligibility criteria. These vouchers are available to a wider range of individuals and families experiencing homelessness, including those with pets, couples, and families with children.
What Are The Restrictions?
Each organization requires the recipient to return to the agency where they received the hotel or motel voucher the next day.
Typically, the client will also need to be working in some capacity or aggressively seeking employment.
They will also typically need to meet with a case manager and execute a plan to relocate and/or break the cycle of homelessness.
The goal is to ensure that people do not fall into oblivion again in the future.
Some of the coupons will go to so-called special situations. It could be a family that lost their home due to fire or flood.
The American Red Cross is a national nonprofit organization that can offer free hotel vouchers for the homeless during an emergency.
The Salvation Army can also provide motel rooms. Or other short-term accommodation during a disaster, such as a flood, fire, or hurricane.
Or some charities will offer a free motel stay to a customer fleeing an environment of domestic violence or abuse.
These resources are not only limited but even where the program works, there will be conditions and restrictions.
What Is A Hotel Voucher?
Homelessness is a significant issue affecting millions of people around the world. While there are many reasons why people become homeless, one of the most common is a lack of affordable housing.
In response, various organizations and programs have been created to help people experiencing homelessness, and motel and hotel vouchers are one such solution.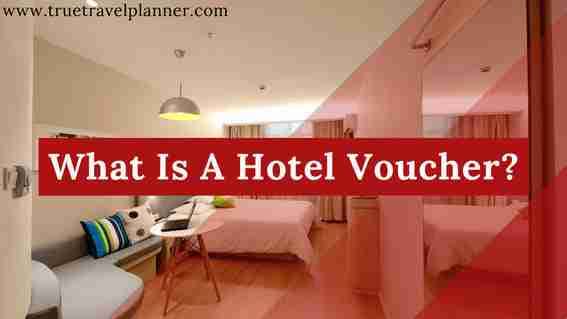 Now, if you are wondering what exactly is a hotel voucher. we are here to tell you.
A hotel voucher for the homeless is a prepaid voucher card that is used in the designated hotel that accepts this voucher and offers you an overnight stay at a cheap motel.
This voucher has a different shape. People can send you a hotel voucher as a gift card and you can use this voucher for a 2 or 3-night stay at the hotel.
There is also a hotel voucher that can be purchased from various travel agencies and organizations.
This hotel voucher is now available free of charge as a free hotel voucher. When the homeless have no destination, they need shelter.
Various organizations provide emergency accommodation with this free hotel voucher so that they do not have to face another terrible situation after losing their house.
How Hotel Vouchers Actually Help The Homeless People?
The free hotel voucher is a help for people who have recently become homeless. These people do not have dandruff on their heads and are likely to stay in the open air.
With this voucher, homeless people can stay at the nearby hotel to ensure that they can reach their next destination without danger and terrible situations. Find cheap hotels and motels near me.
This voucher is given away by the government, non-profit organizations, and various agencies. These are in your area.
You need to reach out to these organizations to ensure you receive a voucher that provides immediate protection due to homelessness due to domestic violence and natural disasters.
Some organizations offer coupons such as a voucher that also gives you free hotel stays.
Free Hotel Voucher Programs For People In Need
There are many nonprofit organizations and charities that can help you with hotel vouchers if you are homeless or in desperate need.
Also if you are searching for motels or hotels for an extended stay then you can check out this related post: Cheap Motels Near Me With Weekly Rates
Let me list some of the places:
Homeless Shelters
The shelter is an organization that offers free hotel vouchers or motel vouchers. This organization attaches great importance to the people who become homeless and have no place to live.
At least they can live safely, and that is the goal of this organization.
So you can try to get the help of a free hotel voucher at your nearest animal shelter office, which is located at every level in the county and state.
There is a local office that you can contact for more information and how to proceed.
Catholic Churches Charities
Catholic charities are the best place for people in need. If you become homeless, you can also get assistance from this agency.
This agency doesn't provide shelter for the homeless, but you can get a free Catholic Charities Voucher that guarantees a free hotel voucher.
You can find these Catholic charities for more information.
Catholic charities staff can provide you with authentic information to quickly get a free hotel voucher.
The American Red Cross
The American Red Cross goes where the crisis is going. They offer shelter to homeless people who have lost their homes due to fire and floods.
This is a non-profit organization that provides free hotel rooms for these people in an emergency.
So you can go to the local American Red Cross offices to get a free hotel room to prevent your homelessness.
Salvation Army Hotel Vouchers
The Salvation Army is one of the most reliable places to help the homeless. There are many programs out there for people in need of food, help with rent payments, utility bills, and free hotel vouchers.
As part of these programs, this organization also offers free hotel vouchers for the needy and homeless to ensure they don't have to live in the open air.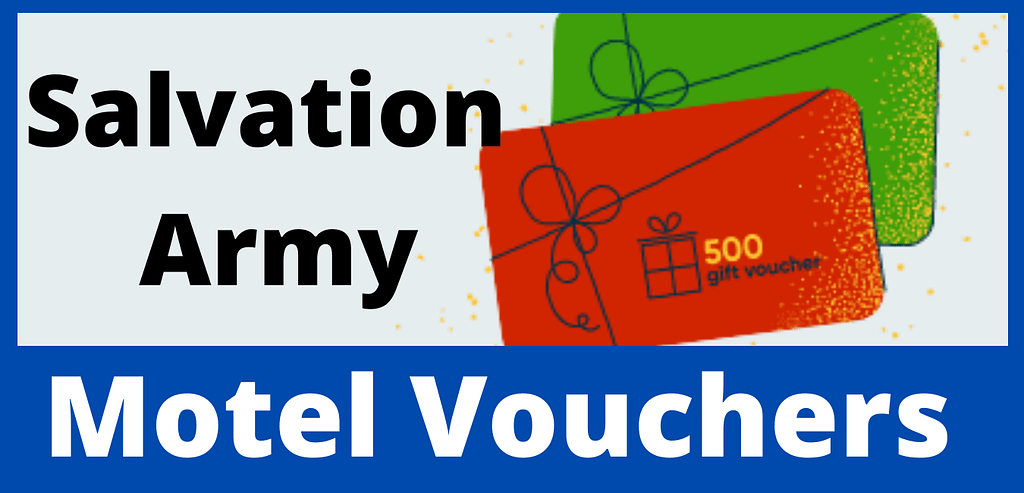 There are Salvation Army offices at your location that you can turn to clarify your current critical condition and receive a free hotel voucher.
In addition, this organization provides free financial support for the purchase of food, clothing, and other things for the homeless.
FAQs About Hotel Vouchers for Homeless
What to do if I am homeless with no money?
If you somehow lose your home, you need immediate protection. People who have money can arrange a hotel or apartment right away.
People who do not have enough money can get into a dire reality with family members. So you should collect the hotline numbers of the organization that deals with free hotel vouchers.
You should also contact a community-based organization that ensures free hotel vouchers for instant service.
Where can I spend the night for free?
The homeless may not have a way to spend the night if they have no relatives or destination. Their fate is so dire that they cannot get a house to spend the night in.
More importantly, by the time night approaches, people may lose their homes. In this case, they will have to create a shelter to pass the night anyway.
If you have a little cash, you can rent a car for the night by taking a public bus or train and surfing on the couch. If you don't have the money, you can go to cities with shops, streets, or safe parks where you can somehow stay overnight.
Where can I get free hotel vouchers?
There are some charities and nonprofit organizations that can help you with hotel vouchers.
Like Salvation Army, American Red Cross, Local Churches, and some homeless shelters.
Where can I apply for hotel and motel vouchers online?
Some of the nonprofits can help you get online motel coupons for emergencies in an emergency. However, you cannot get the coupons directly over the Internet. You can get the source of a person or agency to arrange the free coupons for you. There are a few dedicated websites where you can apply for free hotel vouchers online.
Does Salvation Army help with hotel and motel vouchers?
The Salvation Army is an organization that works for the improvement of people who are needy, have low incomes, and are homeless. There are different programs like free beds, food, clothes, and a free hotel voucher.
This organization makes this voucher available for up to 3 nights in the hotel. This support may be available depending on the availability of funds. You may be given top priority if your reality is terrible, such as B. if you have elderly, disabled people, children, and medically ill people.
Hotel Vouchers For Homeless